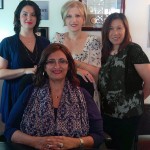 Established in 1983 by Marilyn Attia, our firm has grown to a full service insurance agency. Currently Ariston Brokerage Corp. serves the insurance needs of individuals, families and businesses throughout New York State. We offer all types of business insurance, home insurance and auto insurance. Ask about bundling your insurance policies for additional savings.
As an independent insurance agent, we represent multiple carriers which enables us to find the best policy for your needs at the best price. Our firm is composed of highly qualified professionals, who are caring and conscientious individuals, we are the type of professionals our clients can depend on. We make the commitment to maintain a high standard of excellence in our company and dedicate our time to establishing a firm relationship, full of mutual trust and deserving service to each of our clients.
Your existing insurance is examined and recommendations and cost comparisons are made of the country`s finest insurance companies, then submitted to you for your review. Call 718-232-6464 for a free quote.
The best possible coverage at the best possible rate.
Our Primary Objectives Are:
To be honest and fair in all our dealings
To be interested in people and their problems
To treat the client's needs as if they were our own
We also speak Italian and Chinese
We are committed to a high standard of excellence in all that we do and to establish a firm relationship of mutual trust and service with each of our clients. [ … Read Testimonials … ]
Who To Contact
Jessica Maltese
Customer Care
Eileen Chen
Claims
Marilyn Attia
Personal Lines Manager
 Rosemarie Knowles
Commercial Lines Manager