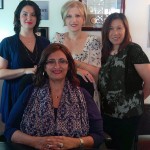 Founded in 1983, Ariston Brokerage Corp. is a leader in providing quality protection for thousands of individuals, families and businesses throughout New York State.  We pride our success through understanding our client's insurance coverage needs, offering superior customer service and low rates while ensuring they have the best coverage for their needs.
By offering world class protection for Business & Personal Insurance, we make sure that you're covered today as well as in the future so that you can focus on what is important to you and your family. At Ariston Brokerage Corp. our #1 job is to assist you in identifying your needs, while creating a customized plan that's simple and easy to understand.
We take the mystery out of insurance and help you make sense of it, so you can look forward to a brighter, more secure future. To do this, we evaluate your specific needs, find the company that will give you the best value for your dollar, while providing a superior standard of protection. The companies we represent offer tested, reliable insurance products and excellent customer service. We make sure that the insurance companies we represent have an outstanding reputation for fast and fair claims service.
Call 718-232-6464 for a free quote.
The best possible coverage at the best possible rate.
Our Primary Objectives Are:
To be honest and fair in all our dealings
To be interested in people and their problems
To treat the client's needs as if they were our own
We also speak Italian and Chinese
We are committed to a high standard of excellence in all that we do and to establish a firm relationship of mutual trust and service with each of our clients. [ … Read Testimonials … ]
Who To Contact
Jessica Maltese
Customer Care
Eileen Chen
Claims
Marilyn Attia
Personal Lines Manager
 Rosemarie Knowles
Commercial Lines Manager